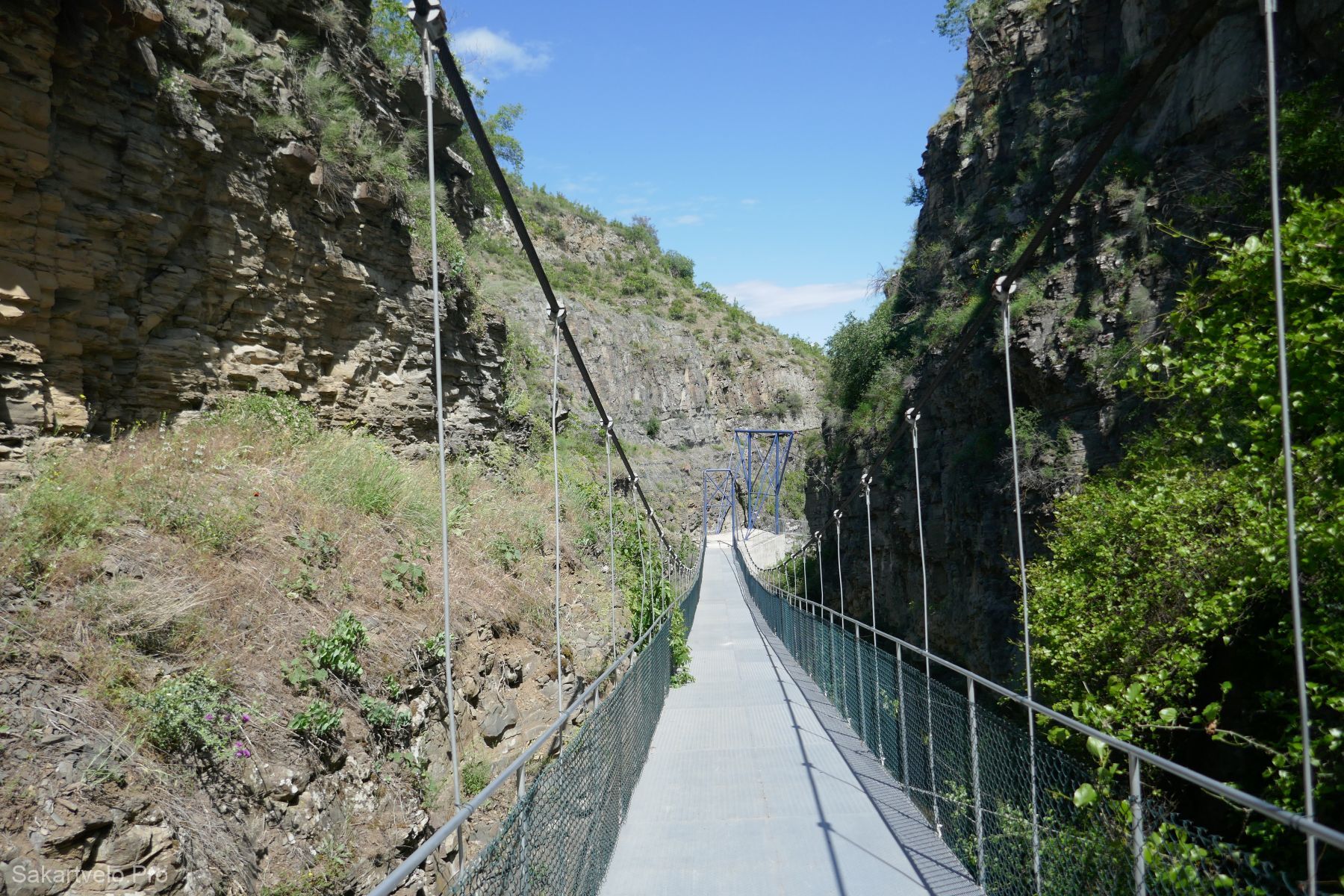 Few people know about the existence of a picturesque gorge with a bike path and waterfalls on the territory of Tbilisi Botanical Garden. Passage into it is not particularly prohibited, but it is not advertised anywhere either. For example, on map of the botanical garden area, which can be observed at the entrance from Abanotubani, this section is, as it were, "cut off" on the left, while the territory is clearly marked by a border on the other three sides.
Why so – probably not from greed, it does not look like Georgians, but most likely because of concern for the safety of visitors. Rockfalls, although not large-scale, but very dangerous for humans, happen regularly in the gorge.
The first barrier is a waterfall at coordinates 41.687013, 44.797846. Few of the visitors go further, thinking that there is no further passage, although there are two dirt paths laid in parallel above the steps and you can walk along them.
The one who went further, or got here along the upper asphalt road, gets to the marked bike path, but soon near the climbing wall at the entrance to the tunnel they come across a "no entry" sign and turn back. We do not call to break the rules and follow the sign, although there is nothing wrong with that. There is a fallback option: in parallel, on the opposite bank of the river from the climbing wall, a dirt path begins, along which you can walk along the tunnel and, in front of the elite high-rise building under construction, go to the same asphalt bike path and go further along the "non-tourist" gorge for at least two more kilometers. Along the way, you can observe semi-wild nature with a dozen picturesque waterfalls and metal suspension bridges of an unusual original shape above them. The extreme point of the bike path is a waterfall with coordinates 41.678362, 44.772698, there is definitely no further passage. After admiring the waterfall, from here you now need to do the same way in reverse order.
It is better to walk slowly, allocating a whole day for the passage of the gorge. In hot weather, you need a hat and a supply of drinking water. In rainy weather, it is better to refrain from visiting.