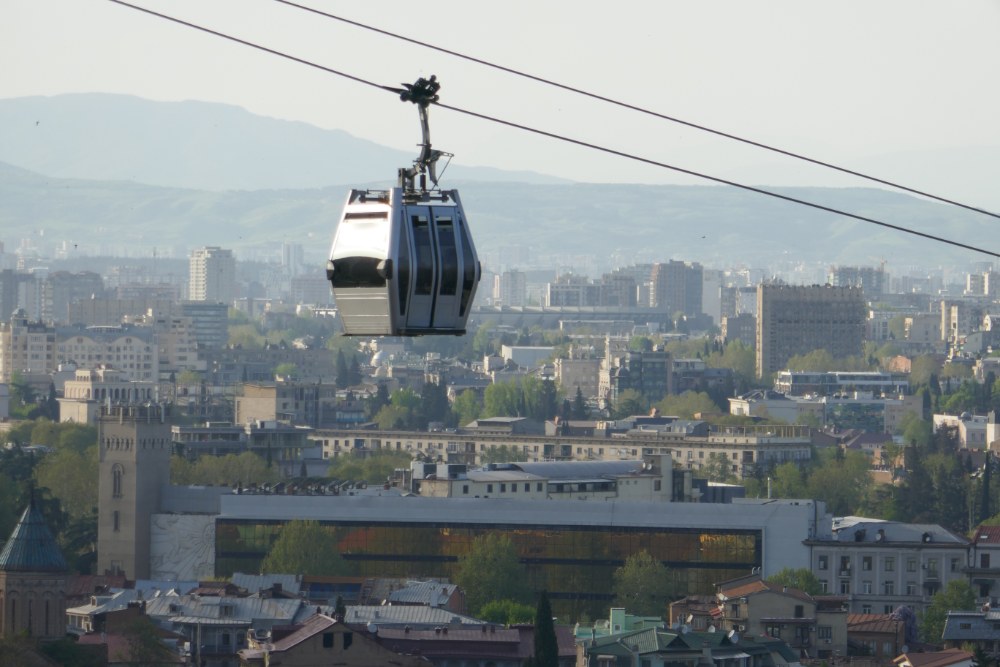 Since 2012, a cable car has been operating in the center of Tbilisi, which connects Rike Park with the Narikala Fortress.
Its length is 508 meters, the difference between levels is up to 100 meters.
Coordinates of the lower station in Rike Park: 41.691993, 44.81078
Narikala upper station coordinates: 41.687998, 44.807223
From the upper station you can go to the Narikala Fortress (left) or to Mother Kartli (right). And literally 10 meters from the station, the descent to the Tbilisi Botanical Garden begins.
From the top you can walk down to the old town, see the famous sulfur baths, go to the waterfall in the canyon of the small Dabakhanka River, rest in the cozy flowering park named after Heydar Aliyev.
The lower station of the cable car is located next to the old town, the nearest metro stations are Avlabari (from it you have to go down to the Park of Europe by Wine Ascent) and Freedom Square (by Kote Apkhazi Street / Leselidze Street to the old town).
During the cable car ride, from the comfortable glass cabins you can enjoy a beautiful view of Tbilisi. The trip is pleasant at any time of day – in the daytime you can see many sights of the Georgian capital, red tiled roofs mottling under your feet… And at night Tbilisi delights with the shimmer of colored lights, beautiful illumination of ancient and modern buildings.
Since the length of the road is small, the trip will last about two minutes. But every second will be interesting!
The fare is paid with a Metromoney card, which is valid on all public transportation in Tbilisi. This travel card is purchased and refilled at any of the stations of the cable car or metro. If you keep the card and the receipt, after your stay in Tbilisi you can get back the money for the card (2 GEL) and the balance on its account. You should have your passport with you. The money will be credited to the account within a month. The second option is to keep it as a souvenir or return to Tbilisi again.
Passage for Ukrainian citizens from 2022, after the beginning of the full-scale invasion of Russia, is free, upon presentation of a passport.
The ropeway project was realized by the Italian company "Leitner", which is one of the world leaders in the production of ropeway transportation systems. The Rike-Narikala ropeway fully complies with European safety standards and is also adapted for visiting people with disabilities. Due to its location, the Rike-Narikala ropeway has become one of the favorite places of Tbilisi residents and guests of the city.