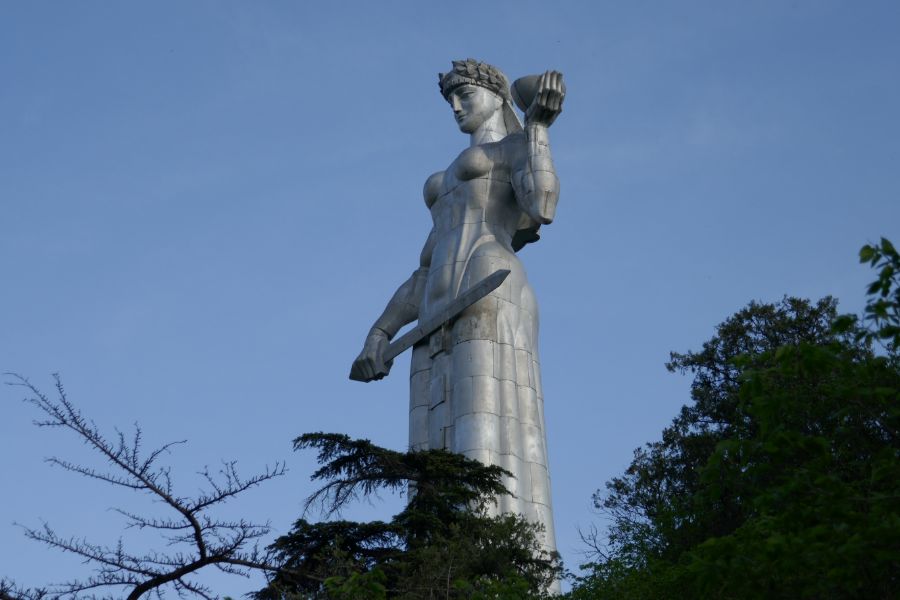 Kartli is the name of one of the ancient Georgian states and two regions of the modern country. Hence the Kartveli – the self-name of the Georgians. The Kingdom of Kartli was born in 537 BC. Sakartvelo (Sakartvelas) – the country of Kartvels.
The statue "Mother of Kartli" symbolizes the Georgian character: a woman in national dress with a cup of wine in her left hand – for those who came as a friend, and with a sword in her right – for those who came as an enemy.
Women of Georgia fought for their Motherland on an equal footing with men, defended and supported the hearth. Masculinity and selflessness became the reason why the female appearance was chosen.
In honor of the celebration of the 1500th anniversary of Tbilisi in 1958, many interesting ways were invented to decorate the city, in particular, to install a giant female figure on the Komsomol alley on Sololaki hill.
The original statue was made of wood and was supposed to decorate the capital only temporarily. But the Georgian Mother fell in love with the residents and guests of Tbilisi so much that it was decided to leave it, and in 1963 the texture of the tree was covered with aluminum to protect it from rain and snow.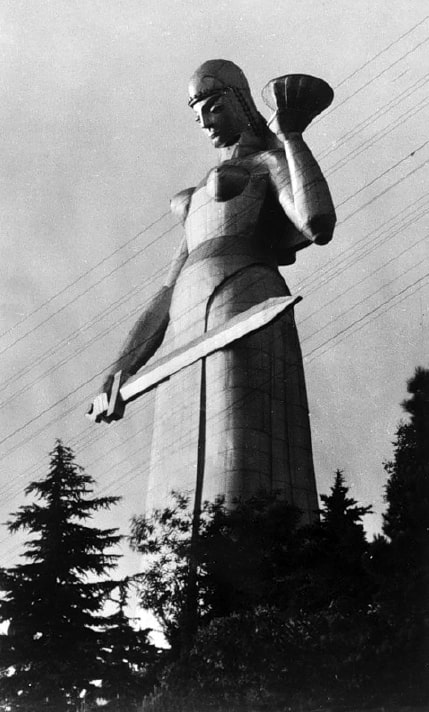 In 1997, the statue was completely replaced with a new one: the mother of Georgia changed her long-sleeved dress to a more modern one and received a new headdress – a less traditional headscarf and bay leaves. The modern outfit then caused numerous controversies among Georgians – not everyone liked the loss of authenticity.
The author of the statue is Elguja Amashukeli. He gave it the name – "Capital", symbolically expressing that the cup and wine are kind-hearted and guest relations, and the sword is the endless battles of the Georgian people. Later, people called her "Mother of Kartli". For this work in 1966 the sculptor was awarded the Shota Rustaveli State Prize.
The height of the statue is 20 meters. Height above sea level – 480 meters. From the foot you can see Tbilisi and its environs.
The monument is located next to the Botanical Garden and the Narikala Fortress (in the 4th century it already stood here and was called Shuris-Tsikhe). It can be reached on foot or by cable car, which is located in Rike Park and is connected to the fortress at the other end.
From the statue there is a descent to the old city along the Betlemi Stairs – a picturesque place above the roofs of houses, with a convenient observation platform, cats and ducks right in the center of the city.
Near the monument, you can buy souvenirs and sit in a cafe overlooking the city.
Monument coordinates: 41.688124, 44.804611.