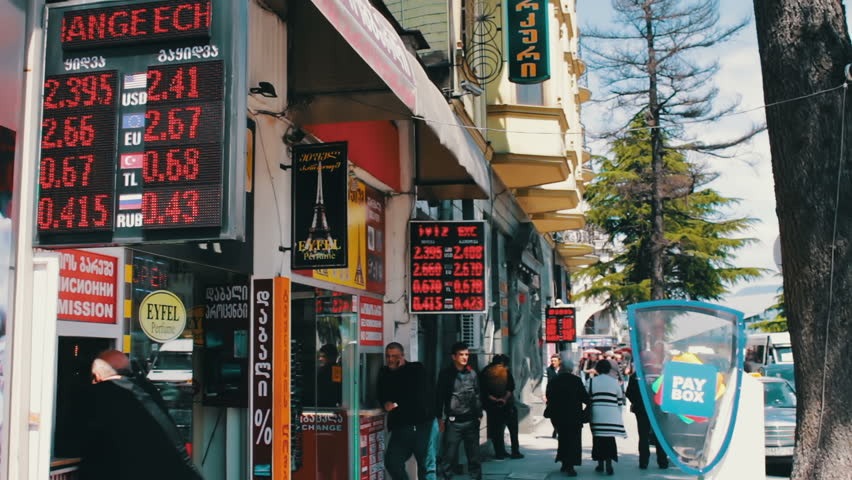 There are no problems with the exchange of cash in Georgia. Here, this is even better than in Ukraine, because many exchange points work around the clock. And even better than in Russia, where, in principle, there are no currency exchange points outside banks, and it is impossible to exchange outside working hours.
The number of exchangers in Georgia is huge. In Tbilisi alone, there are hundreds, and possibly thousands. Apparently good business.
Currency exchange offices are usually located near all metro stations, on central streets, in markets, near shopping centers, etc.
In all exchange offices, as a rule, American dollars, euros and Russian rubles are bought and sold. Many additionally change the currencies of neighboring countries, and some almost all the currencies of the world, but of course at a less favorable rate.
Exchange rates are very pleasing, competition makes itself felt. If you search and compare a little, the spread between buying and selling will be minimal, 0.5% on average, often 0.3%. Sometimes there is no difference between buying and selling at all: for example, you can sell dollars for a certain price, and buy them around the corner at the same price. Always wondered why they do not sell to each other, if the price suits everyone? Far from isolated cases. But if there is no other exchanger nearby, the exchange rate will usually be very unfavorable and it is better to look for a currency exchange elsewhere.
The commission for the exchange is not applied, at least such a phenomenon has never been met. But it's better to first find the inscription "No commission" or "0% commission".
Some reputable exchangers require a passport. Apparently, which work from banks.
What surprised me is that not everywhere they check the banknotes that the client brings on the detector. Apparently, fraud is underdeveloped here. There are a lot of security cameras around, which is good.
Also, Georgians are more loyal to scuffs, wear, seals, etc. on foreign banknotes. What would not have been accepted in Ukraine or Russia or would have gone for collection will be accepted here without question.
Good exchange rates!