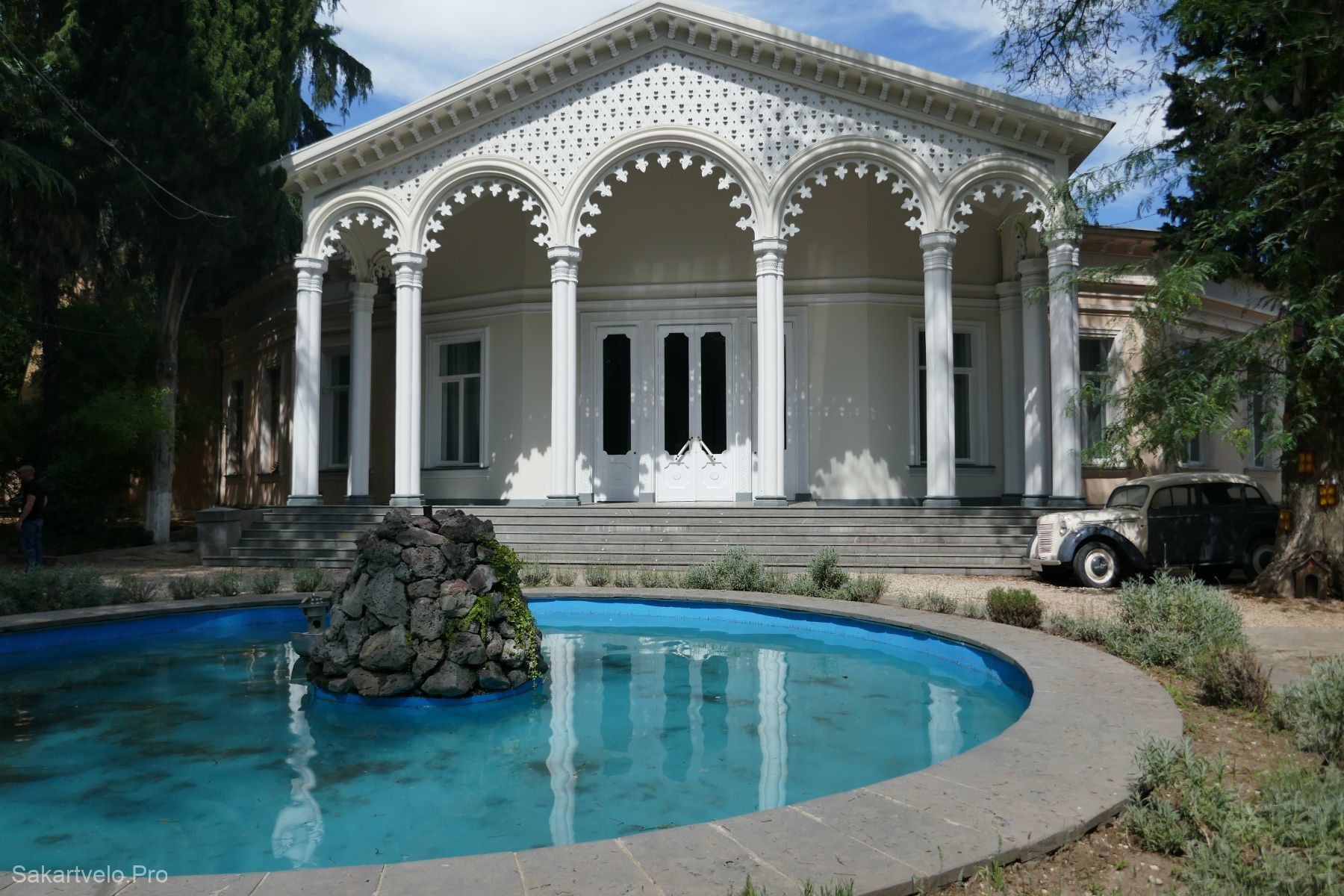 A small area "Rose Park" has a unique charm.
It was designed in 1892 by the architect L. Belfeld and received the name "Mayer's Garden", by order of which Belfeld first built a house, and then designed the park.
In Soviet times, it became the "Garden of the Gorky Club",
and in the 2000s was renamed "Rose Park". But so far there are few of these flowers.
The park has always been loved by Tiflis residents. Young ladies willingly walked along its alleys under lace umbrellas, and later residents of the Plekhanov region. And now on its shady alleys you can see both city dwellers and tourists.
In a snow-white building with columns, there was once a House of Culture and a cinema. Now it hosts celebrations – from weddings to anniversaries. As well as seminars, television shows, festivals.
This light openwork palace is included in the list of architectural monuments of Tbilisi.
In front of its wide porch is an old car and a fountain with turquoise water. Around unexpected installations, elegant floor paintings, vases and gazebos.
In the heart of the park, behind a lace fence, roses really bloom, and this is one of the favorite places for newlyweds to paint. The space illuminated by the sun looks like a fabulous garden, and from the side it seems that it is eternal summer. But it is difficult to get behind the fence – it is guarded by locked gates. At the same time, sitting on the benches and looking at the sun-drenched lawn is calm and pleasant.
A large flower shop is almost invisible on the territory of the park, thanks to which a whole alley of various plants makes the park even more attractive.
There is also a cafe, a hotel, a gym, a playground, a fish fountain, a drinking fountain, and a paid toilet on the territory.
The park provides a huge number of places for photographing – from a piano in the bushes to a cat peeking out of the thickets, from funny inscriptions to unusual sculptures.
The park is beautiful at any time of the year, especially in summer, when you can hide from the heat on its shady alleys, among tall cypresses, under the peaceful chirping of cicadas.
How to get to Rose Park: Marjanishvili station. After exiting the metro, turn left onto Agmashenebeli Avenue. After 250 meters near the house number 69, turn left and go through the barrier.
GPS coordinates: 41.708242, 44.799944
The visit to the park is free.